click to enlarge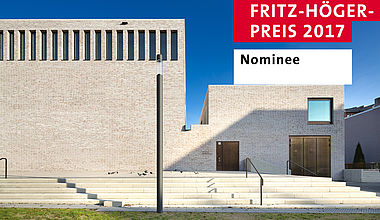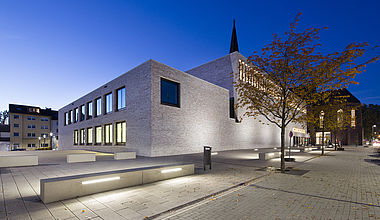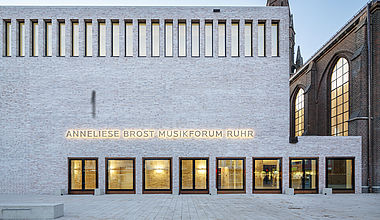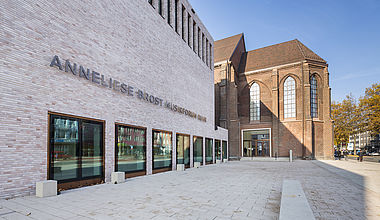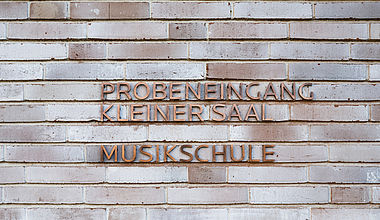 Architects: Bez + Kock Architekten, Stuttgart
Photos: Mathias Jäger
Fritz-Höger Award for brick architecture 2017 Special Mention
Architecture Award BDA NRW

Many churches lack congregations. Demolition is often the result. Not so for the former Catholic St. Marien Church in Bochum. The 18th century place of worship became the centre of the new Bochum Music Forum designed by architects Martin Bez and Thorsten Kock.
In the midst of the urban and nightlife district "Bermuda3Eck", known beyond the borders of Bochum, the "Anneliese Brost Musikforum Ruhr" with a large concert hall and a multifunctional hall now offers a new home to the Bochum Symphony Orchestra and the local music school. The exterior design of the new structures, which flank the nave of the church just enough so that only the narrow choir emerges from the ensemble, is defined by a light-coloured brick façade. The light, terracotta-coloured brick was developed and produced exclusively for the Musikforum. The façade is made of white-washed brickwork, with the translucent red body of the water-struck brick matching the material of the historic Marienkirche and picking up the colour of its original red brick.
The architect Thorsten Kock, who founded the general planning office Bez+Kock Architekten in Stuttgart together with Martin Bez in 2000, is responsible for the design of the new Anneliese brost Musikforum Ruhr building. The office, which employs around 35 people, receives its commissions primarily from winning architectural competitions. In this interview, Thorsten Kock talks about the new Musikforum.

What was the basic idea behind the building design?
The central design idea was to position the music centre as an elongated structure along Viktoriastraße with a wide forecourt and clearly carved out entrances on both sides of the church choir.

What particular challenges did the building design present you with?
One particular challenge was to structurally integrate St. Mary's Church into the ensemble while at the same time showing it appropriate respect. We wanted to preserve the meeting place that has existed for centuries and integrate it into the new ensemble as an identity-creating centre.

How important is the façade within the design?
The façade is very important. At first glance, the light beige bricks seem to contrast in colour with the original bricks of the adjoining building. On closer inspection, however, one notices that the bricks reflect the material of the church, which is built of red brick.

Explain the collaboration with Deppe Backstein.
We approached Deppe Backstein with our ideas when we were already in the execution phase, so there was little time for the development of the bricks. A high degree of flexibility and the individual support from Deppe finally helped us to create the optimal brick within the set time frame.